Watch this space, as I have some plans for it… :)
---
Reading Level: Young Adult
Hardcover: 288 pages
Publisher: Soho Teen (October 29th 2013)
Language: English
ISBN-10: 1616951966
ISBN-13: 978-1616951962

The truth will test you…

For fans of Game of Thrones and The Hunger Games: high fantasy and dystopia meet in this high-stakes tale of a civilization built on lies and the girl who single-handedly brings it down.

When Eva's twin brother, Eamon, falls to his death just a few months before he is due to participate in The Testing, no one expects Eva to take his place. She's a Maiden, slated for embroidery classes, curtseys, and soon a prestigious marriage befitting the daughter of an Aerie ruler. But Eva insists on honoring her brother by becoming a Testor. After all, she wouldn't be the first Maiden to Test, just the first in 150 years.

Eva knows the Testing is no dance class. Gallant Testors train for their entire lives to search icy wastelands for Relics: artifacts of the corrupt civilization that existed before The Healing drowned the world. Out in the Boundary Lands, Eva must rely on every moment of the lightning-quick training she received from Lukas—her servant, a Boundary native, and her closest friend now that Eamon is gone.

But there are threats in The Testing beyond what Lukas could have prepared her for. And no one could have imagined the danger Eva unleashes when she discovers a Relic that shakes the Aerie to its core.
First off, before the review, hello again, my friends! Long time, no reviews. Hopefully, that will be changing! And second, I will be trying a new thing for this review… FLASH REVIEW! Five lines! One paragraph! Lots of exclamation points! YAY! Let's try this out…
Relic was one of my most anticipated books of the fall and I was not disappointed! The world building, the writing, the characters! I went in unsure if my expectations would be met and came out beyond mesmerized. I could not get enough of this beautiful book. And now am I that person sitting next to you, tapping their feet impatiently, because I am awaiting book two, and it's taking way too long.
How'd I do? ;) Seriously, you guys, read this book. I'm obsessed.
And nowwww…. A giveaway! Courtesy of Soho Teen, I am giving away a gorgeous finished copy of Relic! Trust me, you WANT this. You want it. You do.
So enter below, my darlings…
---
I keep forgetting to post this awesome bit… but my fansite Access Saoirse is giving away two prize packs from Open Road's The Host, which is in cinemas tomorrow! The giveaway will be going on until April 1st, this coming Monday. And nothing except a quick minute of your time is required to enter! The giveaway, sponsored by Mammoth PR, is really quite awesome, and if you're scared of The Host being like Twilight because they're from the same author… do not fret! I assure you, the book is much better. Plus, the official movie companion is pretty damn cool! ;) Follow the image below to learn how you can enter…
---
It's nearly time to say good bye to Eden and her friends with the conclusion of the A Touch Trilogy from author Leah Clifford.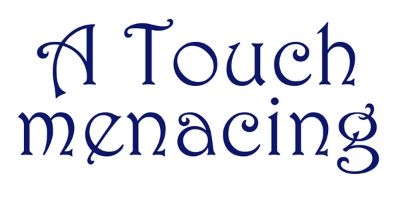 Whether you've been there from the beginning when Eden first met Az in A TOUCH MORTAL. Spent countless hours contemplating with other A Touch Trilogy fans over the fate of the kitten, from A TOUCH MORBID. Or are just joining us now, the conclusion to Leah Clifford's A Touch Trilogy promises to be heart stopping and well worth the wait!
Pick up whichever novel you need to catch up before MENACING'S March 5th release date. You don't want to be the only one not talking about this book!
A TOUCH MENACING
A Touch Trilogy #3
Author: Leah Clifford
Release Date: March 5th
Eden is dying. For real, this time.



She is crumbling to ash, and an unnatural plague is ravaging mortals and immortals alike. With both Heaven and Hell out to destroy her, Eden can no longer tell the difference between good and evil.

Friends become enemies. And enemies are everywhere.

But don't underestimate Eden. She'll fight for her life, for the lives of those she loves, and for every life she has ever touched.

She'll fight for revenge. For redemption. For—just maybe—the chance to be mortal again.

Everything began with forbidden love.

What will be sacrificed at the bitter end?

The dramatic conclusion to Leah Clifford's dark, alluring trilogy of life, death, and epic love.
PRE-ORDER A TOUCH MENACING NOW FOR ONLY $11.98
Pick Up The Whole Series!
A TOUCH MORTAL (A Touch Trilogy #1) AMAZON | B&N
---
GIVEAWAY
Help us spread the word about the final installment of the A Touch Trilogy, and you could win one of these amazing prizes!
Grand Prize 
30 Minute Skype Chat with Leah Clifford. Talk about writing, talk about THE KITTEN, talk about her books! Talk about almost anything!
2nd Place 
Get's to name a character in Leah's next published book
2 Lucky Bonus Winners
Will get 1 Paperback of A TOUCH MORTAL and 1 Hardcover of A TOUCH MORBID signed to the winner!
THE RULES
- Open Internationally for the Skype Chat and Character Name
- Books Will Only be mailed in the US.
- Pre Order for A Touch Menacing can be from any date
- Order for Mortal or Morbid MUST be dated between 2/1 and 2/22
*we reserve the right to deny any receipt for entry if it appears to be altered or manipulated in anyway.
a Rafflecopter giveaway
---
ABOUT THE AUTHOR:
Leah Clifford currently lives in Ohio, but frequently dreams of finding an abandoned mansion in the south that she can restore. In her spare time she loves to travel and has been known to drive over two hours to get kickass quesadillas. So far for jobs she's sold corn at a roadside stand, been a pizza delivery girl, a camp counselor, an extreme cave tour guide, a flight attendant, a waitress (x3), a grocery store clerk and a writer. Out of all of them, writing has been the most fun. She's pretty sure she's gonna stick with it.
STALK LEAH CLIFFORD

TWITTER | FACEBOOK | GOODREADS | TUMBLR | WEBSITE | BLOG
Love Leah's A TOUCH TRILOGY?

Check out the CafePress store dedicated to the series.
Just click to visit The Mortal Porta!
A Touch Menacing items coming soon!
---
Or why I love Across the Universe by Beth Revis MORE THAN YOU.
When I read Across the Universe at the end of 2010, having won an advanced copy in Lenore's Dystopian August ultimate giveaway, I knew this book would go wonderful and do wonderful things for so many people. Everything about it screamed success—the writing, the characters, the wondrous setting, the horrific plot twists.
But that's not why I loved it.
I loved it because it got me.
What the hell does that mean? Well, it's like this: ever since I was a very small girl, I've dreamed of the stars. They have been my friends, kind and unrelenting, wonderful and terrible, the greatest mystery I've ever encountered. They have hugged me like I was their own, taken me to places that mankind can't imagine existing. And when I read AtU, It touched my heart in a new way, like no other book has ever done. For the first time, none of the main characters annoyed me beyond belief for any reason. There was no elongated periods of time where I had to set the book down because it was too annoying, too heavy, too gross, etc. and I appreciated that beyond words. It was exactly the kind of escape I needed to have at that time.
Last year, I was blessed enough to be able to buy a charm bracelet that I had been eyeing for a while… it was no ordinary charm bracelet either. It was hand-made by the incredible Mistress Jennie on Etsy. If you've ever seen her work, then you know how amazing it is. As soon as I was able, I bought the bracelet promptly and it arrived around a week or so later! This is a picture of it, via Etsy, of the gorgeous thing!
But yeah, basically, this bracelet is my most prized possession. It is gorgeous and I wear it proudly and often. I am so honored to be able to wear my AtU love on my wrist in a stunning (and my favorite) way!
Whenever I see anything involving the Across the Universe trilogy on the web, Tumblr, Facebook, etc., I like/reblog/follow it! I literally cannot contain my feels about it. I will ramble on and on to you about how wonderful it is, how everyone needs to read it. I think I've recommended it so many times that I can't remember them all (or perhaps that is because I have a terrible memory..). I just… UGH. This series is everything I ever hoped for and it finally is. It finally exists and now I don't have to write it myself (and even if I tried, it would not be anywhere near as wondrous and terribly heart-wrenching and crazy as this series). I don't know if this necessarily makes me the ultimate fan but I certainly hope it gets me near the top. Because in my world, I do believe I am the ultimate AtU fan and I couldn't be more honored to be apart of this fandom!
---
I love my state. I've lived in Ohio my whole life and I can't imagine not living here. Our winters suck and our summers get really hot really fast but if you've ever been here, you know how beautiful it is.
Perhaps you've heard of the Teen Buckeye Book Awards? If not, you can probably guess what they are: they're held every year to honor the top favorite book of Ohio students in grades 9-12. This year, you can vote from September 1st to November 10th for the following nominees:
The Exiled Queen by Cinda Williams Chima
Five Flavors of Dumb by Anthony John
Hunger: a Gone novel by Michael Grant
Things A Brother Knows by Dana Reinhardt
Last Sacrifice by Rachelle Mead
Click here to go to the website to vote. If you know any teens from Ohio that likes any of those books, be sure to spread the word! They're looking to collect as many votes as possible so let's get 'em!
---
I've finally reached twenty-five twenty-four blog followers! If you were around last night on Twitter, you probably saw my message go out that said that said I'd do my FIRST ever giveaway sometime today, something I've been promising for about sixty years now. A few months ago, I said I would do the giveaway at twenty-five followers but it's one away now and since it doesn't seem to be going anywhere… I figured it was time.
SO! On we move.
This giveaway is going to have two winners. These winners will receive one of two prize packs, which feature books (of course) and swag such as stickers, postcards, bookmarks, and more! What books are going to be up for grabs? Well…
Prize #1:
ARC of Across the Universe by Beth Revis, with AtU sticker/bookplate (signed) on the inside
The Liar Society by Lisa & Laura Roecker bookmark (signed)
Firelight by Sophie Jordan bookmark, sticker, postcard
Claire de Lune by Christine Johnson sticker

Prize Pack #1

Close-up of signed Across the Universe bookplate/sticker
Prize #2:
Beautiful Darkness by Kami Garcia & Margaret Stohl (hardcover)
The first three chapters of Daughter of Smoke and Bone by Laini Taylor
The Liar Society by Lisa & Laura Roecker bookmark (signed)
Firelight by Sophie Jordan bookmark, sticker, postcard
Claire de Lune by Christine Johnson sticker
CD/DVD containing chapter samplers and special features from Random House authors such as Lauren Kate (Fallen series), Cyn Balog (Fairy Tale, Sleepless), Carrie Ryan (Forest of Hands and Teeth) and many more

Prize Pack #2
Along with those awesome prizes, and in honor of Halloween, both winners will receive one of these adorable little pumpkins that light up and flicker like a candle! The one pictured is pink but the ones that are sent may vary.

Extra Entries
You didn't think I wouldn't give you a way to get extra entries into the drawing, right? Because I totally am! None of these are required, but they will increase your chances of winning. =D
Follow this blog: +2
Follow me on Twitter: +2
Follow me on Tumblr: +2—Do not make a Tumblr just to get extra entries; it won't count. Same goes for Twitter.
Promote the giveaway on Twitter: +2—Please use the hashtag #24followerscontest, you can do this as many times as you want.
Promote the giveaway on Facebook: +3
Put a link up on your blog: +3
Put a link up in one of your blog posts: +5
Make an exclusive blog post about the giveaway: +10—Book blog, personal blog, Tumblr; any of those will count, just make sure to include the link to the giveaway.
Rules and Guidelines
Must be 13 years of age or older
You can enter for both prizes but you will only win one or the other
As I stated before, please don't make accounts just to get extra entries
Only submit the form once. More than one form from the same person may lead to disqualification
US only this time; so sorry to In'l readers =(
Make sure you read my giveaway policy before entering
This giveaway will end on October 20th! That will give you lots of time for extra entries. =) Good luck, everyone, and thank you!
Form

---
« Older Posts